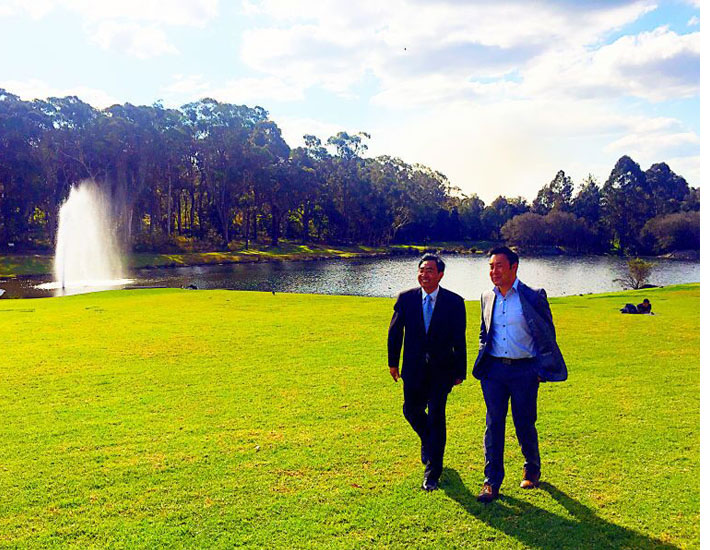 Henan is the province with largest population in China. With rapidly ageing populations, cancer and brain diseases are two main killers for Henan people.
As the most prestigious university in Henan province, Henan University holds excellent researchers, good facilities and resourceful hospitals for lab-based and translational research. Henan University has taken the responsibility with launching a Centre for Advanced Theranostics to seeking multidisciplinary solutions for disease diagnostics and therapy towards low-cost healthcare and better life.
With the strategic collaboration with Macquarie University, one of leading Universities in the world in cancer detection and brain disease therapy together with clinical practise, the joint biomedical research centre will have four main historical missions:
1. ENHANCING RESEARCH STRENGTHS
The Joint Research Centre will co-ordinate research activities through collaborative research programs and sharing of resources and intellectual knowledge, leveraging off respective expertise from both partners to enhance research outcomes.

2. BETTER HEALTHCARE AND LIFE
Both MQ and Henan operate integrated academic health sciences centres on campus. We will capitalise upon this, through a translational research based model (research center + hospital + health sciences centre) that provides a pathway for delivering research discoveries into healthcare practice to improve patient's lives.

3. HIGH-STANDARD EDUCATION
The Joint Research Centre will provide an outstanding multi-country and multi-disciplinary training environment for PhD, master and bachelor level students, through student and staff exchange programs and joint research degrees. Education across multiple countries will provide international exposure and experience that prepares our graduates for future careers as leaders in international medical research.

4. DISTINCTIVE REPUTATION
This Joint Research Centre provides an innovative model for collaboration between Australian and Chinese Universities. We will build a long-term partnership between our universities, that will underpin growth in our reputational recognition as global research leaders in innovative multidisciplinary medical research.

Building an international research eco-system with a focus on translational research for key diseases is crucial for the prosperity of Henan province. The joint centre provides the facilities and focus to support researchers to do this in the fields of advanced theranostics. I hope that you will engage with the joint centre so that together we can realise these goals.